Updates! What's New at Alpert JFS
First and foremost… Welcome to Our New Website! 
We hope you enjoy it.
Some significant changes have taken place and we wanted to make sure everyone is aware of them.
We have rebranded. Alpert Jewish Family & Children's Service (AJFCS) is now Alpert Jewish Family Service (Alpert JFS). Not only is our "new" name easier to say and communicate, but it comes with a beautiful new logo and identity.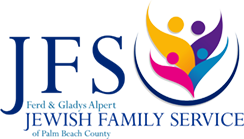 We hope you enjoy the vibrant, new look. The new color palette and theme will be adapted into all of our material and core brand elements. Alpert JFS is an agency that brings light into the lives of those plagued by dark times. Our new brand epitomizes the vibrant, compassionate, warm beacon of hope that is synonymous with our agency.
Key Staff and Board Changes:
Board President – Long-time Board of Directors member and past agency President Michael A. Lampert has been elected to serve a two-year term as President of Alpert JFS and Levine Jewish Residential & Family Service. Prior to his position at the Alpert Jewish Family Service, Lampert has lectured extensively to both professional and community organizations and served for six years on the Tax Law Certification Committee of the Florida Bar Board of Legal Specialization and Education. He is past Chair of the Florida Bar Tax Section, past president of the Palm Beach Tax Institute, past chair of the Tax Law Committee of the Palm Beach County Bar Association. He is a Fellow of the American College of Tax Counsel, selected to Florida Super Lawyers, past Chairman of The Greater Palm Beaches – Treasure Coast Region Area Chapter of the American Red Cross and has been elected to the Jewish Federation of Palm Beach County Board of Directors. For more information about Michael L. Lampert, click here.
CEO – After 32 years at Alpert JFS, Dr. Jenni Frumer has announced her retirement from the agency. Marc Hopin, Alpert JFS CFO, is the interim CEO of the agency while continuing as the Agency's CFO.  He has been with Agency for five years.  During that time he has provided the Board and the Agency with outstanding financial leadership and insight that has helped keep the Agency on sound financial footing.
Development Department – Chief Development Officer Carolyn Yasuna has retired, after 8 successful years of fundraising at Alpert JFS. A national search is underway for a new Chief Development Officer but in the interim, Joy Felton Lavin, Alpert JFS' Director of Major Gifts, will be leading our Development initiatives and will be the principal point of contact for our donors. With that in mind, I would like for you to know just a little bit about Joy.
Joy joined Alpert JFS in June of 2015.  She brought in the largest "Legacy Gift" in agency history along with multiple new major donors to the agency who had not previously been involved with Alpert JFS or with our Jewish community. Meeting people in the strangest places appears to be Joy's forte. Her two favorite stories are meeting a lovely couple in Bed, Bath, & Beyond one evening after an event, and another in line boarding a plane at the airport – both became Chai Society members and dear friends!
Before Alpert JFS, beginning in 2008 (when Madoff hit – Joy's timing wasn't great when deciding to go into Jewish fundraising) Joy worked at the Anti-Defamation League as Associate Director of Development, then moved to American Friends of Ben Gurion University as co-Regional Director of the Florida Region which included opening up the Atlanta market. A chance meeting with one of our supporters 3 years ago led Joy to AlpertJFS where she became Director of Major Gifts.
Prior to her work in fundraising, Joy served as President/CEO of Joy E. Felton & Associates where she founded, grew, ran, and then sold, a private practice providing speech therapy services to adults and children in multiple medical facilities. Additionally, Joy was the top salesperson for two nutraceutical companies (medical sales) where she was named salesperson of the year.
Personal: Newlyweds, Joy and Michael Lavin scheduled their March wedding 4 days after this year's No Excuse for Abuse luncheon. Joy and Michael raised $15,000 for Alpert JFS by directing their wedding guests to contribute to the agency in lieu of gifts. Michael, born and raised in Philadelphia, spent most of his professional life in Chicago, is a retired partner of KPMG, one of the largest global management and accounting firms. They reside in Palm Beach Gardens. Joy is mother to son, Ryan, 28, who lives in Tallahassee, and daughter, Carly, 34, who lives in Atlanta with her husband Dan, Joy's grandson, Sammy, 2, and Joy's newly born (August 8th) granddaughter, Sydney!