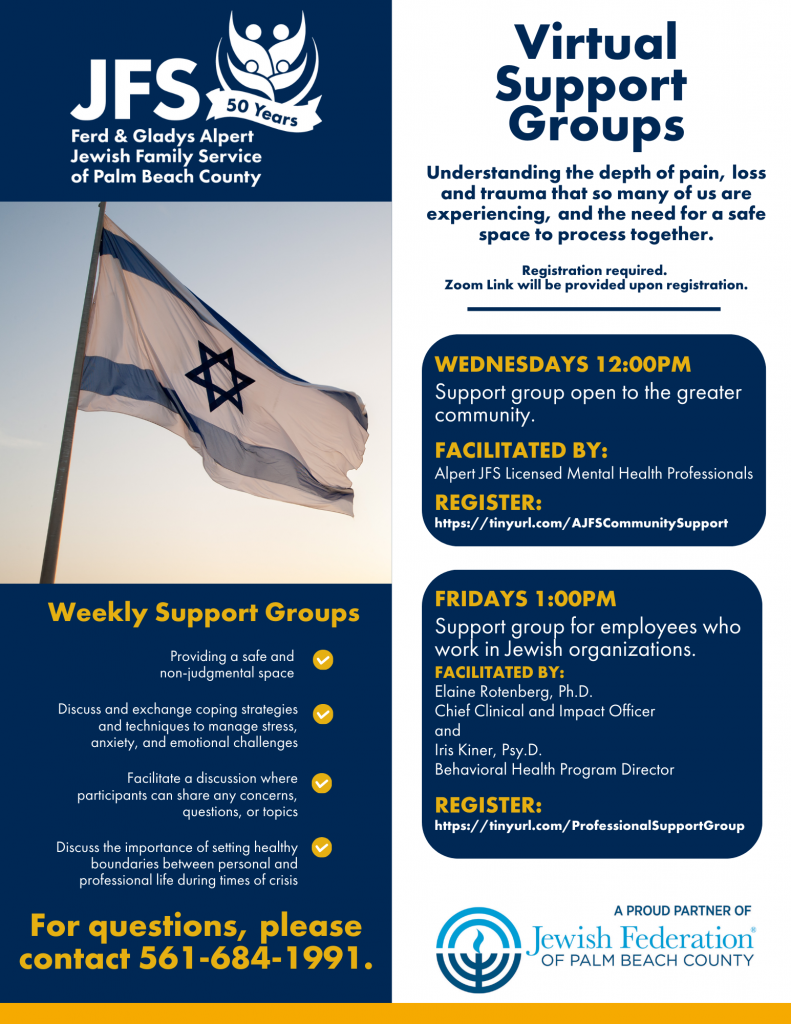 In light of the ongoing conflict in Israel, we understand that many individuals are experiencing heightened emotions and challenges in dealing with the repercussions. We believe that it is essential to create a safe space where we can come together, share our thoughts, and find solace and support.
We are thrilled to announce two distinct, yet equally important support groups that we will be offering: one catered specifically for professionals working in a Jewish organization, and another available to the general public. Both sessions are entirely FREE to attend and will be conducted via Zoom, so no matter where you are, you can still join us!
𝗦𝘂𝗽𝗽𝗼𝗿𝘁 𝗚𝗿𝗼𝘂𝗽 𝟭: For Employees Working in a Jewish Organizations
If you are a professional working in a Jewish organization, we recognize the unique challenges you may be facing. This dedicated support group will provide a platform for you to connect with your peers, share experiences, and seek guidance. Together, we can navigate these testing times more effectively, supporting one another as we continue to serve our communities.
𝗦𝘂𝗽𝗽𝗼𝗿𝘁 𝗚𝗿𝗼𝘂𝗽 𝟮: For the General Public
We understand that turmoil and uncertainty can affect anyone, regardless of their profession or cultural background. Whether you are directly impacted by the situation in Israel or simply seeking a space to share your feelings, this support group is here for you. It's an opportunity to connect with compassionate individuals who can empathize and offer support during these trying times.
Please note that both support groups are open to people of all backgrounds, religions, and beliefs. We encourage respectful dialogue and a non-judgmental environment where we can all learn from one another.
We sincerely hope that these support groups will provide you with an outlet for both sharing and receiving support, as well as a source of strength and resilience during these challenging times.